GE Microwave Smart Board
How WB27X10934 price changed over last several months:
GE WB27X10934 comparison with other similar products:
Gallery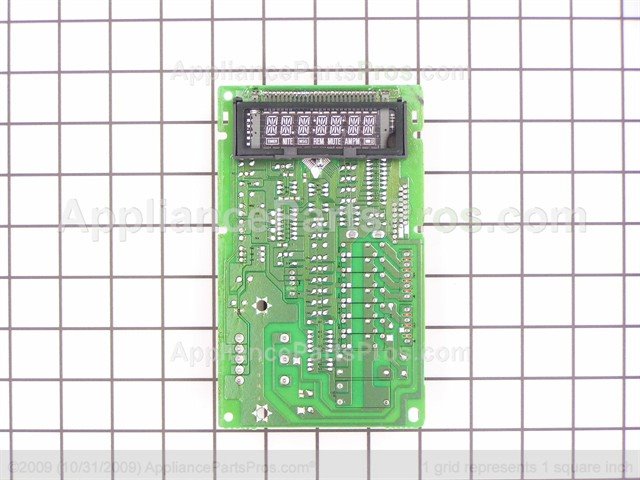 Info
WB27X10934 review and price:
Other Info for this deal:
Warranty: standard manufacturer's warranty
S&H: Free shipping if ordered online
WB27X10934 GE's dimensions and weight: check our reviews
Coupon: n/a
Compare WB27X10934 GE Microwave with similar products:
Whirlpool Stove / Oven / Range Gas Regulator & Valve 3196544
Whirlpool FGP320YL2, Whirlpool FGP325EN0, Whirlpool FGP325EW0, Whirlpool FGP325GN1
Works with the following models: Whirlpool 8505L00, Whirlpool FGP315EN0, Whirlpool FGP315EW0
REGULATOR
GE WB26X10208 Turntable Motor for Microwave
WB26X10208
1 year manufacturer warranty
Genuine GE factory part
10794402: Magnetron for Whirlpool
10794402: Magnetron for Whirlpool
NON-OEM Replaement Part
1 Year Warranty
Whirlpool W10210886 Microwave Door
Whirlpool WMH1162XVB1
Whirlpool WMH1162XVB2
Works with the following models: Whirlpool MH1171XVS0, Whirlpool MH1171XVS1, Whirlpool WMH1162XVB, Whirlpool WMH1162XVB0
Whirlpool WMH1162XVB2, Whirlpool WMH1162XVD
Genuine Replacement Part
LG Electronics 6871W1A459A Microwave Oven Main PCB
LG Electronics part number 6871W1A459A
For use with the following LG Electronics models: LMVM2055ST, MV2045BQS, MV2045BQSL, LMVM2055SB, LMVM2055SW
Microwave oven main PCB assembly
Refer to your manual to ensure ordering the correct, compatible part
General Electric WB27T10268 Oven Control Board
This is a genuine replacement part
General Electric (GENF0)
Cooktop-accessories
G.E. Microwave Glass Turntable Plate / Tray 15 1/2 " WB49X0690
Outside diameter of turntable track is 9 1/2 inches.
Measures approximately 15 1/2 inches in overall diameter.
This microwave tray replaces G.E. part 's: WB49X0690, WB49X690
Glass turntable plate / tray for G.E. microwave ovens.
This microwave plate ONLY fits the GE models listed below. If you are unsure about compatibility please email us with your model number BEFORE ORDERING.
What people considered before buying it:
GE WB27X10934 Smart Board for Microwave
Subscribe
Subscribe to WB27X10934 best price tracker for your city/stores