xPrintServer Office Edition (XPS1002FC-02-S)
How Lantronix XPS1002FC-02-S price changed over last several months:
xPrintServer XPS1002FC-02-S comparison with other similar products:
Gallery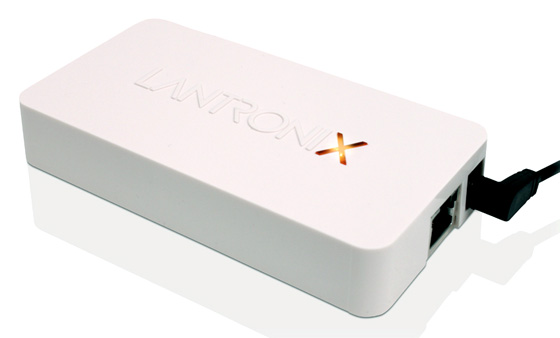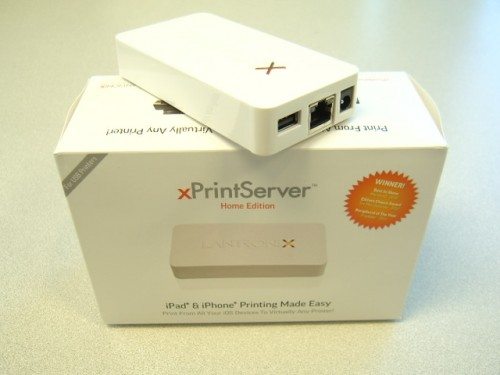 Info
XPS1002FC-02-S review and price:
Lantronix xPrintServer Office Edition features:
Wireless Android device and Chromebook printing (Google Cloud Print)
Printer user management and configuration via web browser interface
Wireless iOS device printing (Apple Air Print)
Network (wired/wireless) and USB printer support
No iOS/Android client/device license fees required
No need to download and install separate app
Other Info for this deal:
Warranty: standard manufacturer's warranty
S&H: Free shipping if ordered online
Lantronix xPrintServer's dimensions and weight: check our reviews
Coupon: n/a
General Lantronix XPS1002FC-02-S description
Print directly from Apple iOS and Google Android smartphones and tablets. Connecting the xPrintServer to your network router or switch enables you to print directly from your iOS devices, Android devices, Chromebooks and PC by enabling Air Print and Google Cloud Print on your printers. Once installed, it automatically discovers and provisions your printers without the need for manual set up, and without losing your capability to print from Windows and MAC OS computers. Intended for a large range of businesses, the small print server gives enterprise features and enables wireless printing from an unlimited number of mobile devices to many printers without any licensing fees.
Recent reviews:
I first got this for my home office. I am not an IT kind of person, however it took me less than 10 minutes (from opening it up to going through the easy to follow information) to be up and running. My family loves it — now we can print from anyplace in the house via our tablets, smartphones (iPhone and two Androids), etc. I loved it so much that I ended up purchasing one for my office too. This Christmas I will be giving them as gifts .
A way to print in a home network. Our iphone and computers found the printers now. Wow. I lost so much time before.
I greatly recommend the XPrintserver. I learned the xPrintserver works with most postscript printers. This should be in the description someplace. We have 9 printers, and it worked with each one seamlessly. One xPrintserver added Airprint to all our printers with no setup. If you have a postscript printer, which most office printers support, this is a perfect product for you. I looked at some number of alternatives on the web and found this one to have the best in general reviews.
Compare Lantronix xPrintServer Office with similar products:
DYMO® – LabelWriter Print Server – Sold As 1 Each – Gives everyone in your network access to label printer.
Post-consumer_Recycled_Content_Percent – 0
Total_Recycled_Content_Percent – 0
Connects_Devices_From/to – Connects label printers to network
Pre-consumer_Recycled_Content_Percent – 0
Lantronix xPrintServer Home Edition for iOS Printing – XPS1002HM-01-S
No apps, no software to install or download.
Have you ever wanted to print a recipe, homework or a boarding pass from your iPad or iPhone – and couldn't? Now you can, directly to your home printers from the iOS print menu
Easy to use/automatic discovery of your USB and network printers.
Based on the award-winning, patent-pending Network Edition.
xPrintServer Home Edition for iOS printing at Home, optimized for USB printers.
Seh UTN-800 Device Server (M05802)
Form Factor: External
Processor: 1 x 800 MHz
Localization: United States
EpsonNet 10/100 Base TX Type B Internal Ethernet Epson Print Server (C12C824352)
Quickly converts many Epson printers with a Type B slot into network printers (includes some Epson Stylus printers, all Epson Stylus Pro series printers and most Epson impact printers)
Supports Windows 95/98/ME/NT/2000/XP, Novell NetWare, Linux, UNIX, and Macintosh OS 7.x or later (including OS X).
Works With DFX-5000+, DFX-9000, FX-890, FX-2190, LQ-590, LQ-680Pro, LQ-2080, LQ-2090, LQ-2180 Impact Printers, and Epson Stylus Pro 4800.
Provides an intuitive installation wizard for easy setup and configuration on Ethernet networks from any Windows or Macintosh workstation or Internet browser – Automatically detects the network speed (10 Mbps or 100 Mbps).
TP-LINK TL-PS110P Single parallel port fast ethernet Print Server, E-mail Alert, Internet Printing Protocol (IPP) SMB
Interface: Parallel Port Fast Ethernet RJ-45 Port
Compact and smart design, can be located almost anywhere
Supports multi-protocol and multi-OS, easy to set up in almost all network environments
Management : Web Management, Telnet Configuration, HP Web Jet Admin
Compatible with up to 230 printer models on the market
Protocols: TCP/IP,(Remote Virtual USB),LPR/LPD
Power Consumption: 3.3V DC, 2A
LED Indicator: Status, 10Mbps, 100Mbps
Lantronix XPS1002CP-01-S xPrintServer Cloud Print Edition
Print from your Google Cloud Print devices to virtually any printer – no need to buy new printers
One xPrintServer supports multiple printers and virtually unlimited number of users
Print from your phone, tablet, Chrome book, laptop or PC
HP Jetdirect 690n Wireless Print Server
HP Jetdirect 690n Wireless Print Server J8007G ABA Print Servers – Wireless
Edition Office (XPS1002FC-02-S) technical ratings and MSRP
Printer user management and configuration via web browser interface
Network (wired/wireless) and USB printer support
No iOS/Android client/device license fees required
No need to download and install separate app
Wireless iOS device printing (Apple Air Print)
Wireless Android device and Chromebook printing (Google Cloud Print)
What people considered before buying XPS1002FC02S:
StarTech.com 3m Multimode 62.5/125 Duplex Fiber Patch Cable LC-ST (FIBLCST3)
MOTONG iPad air 2 case 360 Degree Rotation Case With Stand, Rugged: Water resist, Dirt and Shock Proof, leather hand strap with built-in stand, for iPad Air 2 only(Black)(Fulfilled by Amazon)
Logitech Desktop MK120 Mouse and keyboard Combo
Logitech M510 Wireless Mouse
Subscribe
Subscribe to XPS1002FC02S best price tracker for your city/stores