Stem Black Wi-fi Video Monitor Surveillance for iOS 5.0+ and Android 4.2+
How IZON WRM-BA3-00 price changed over last several months:
Stem WRM-BA3-00 comparison with other similar products:
Gallery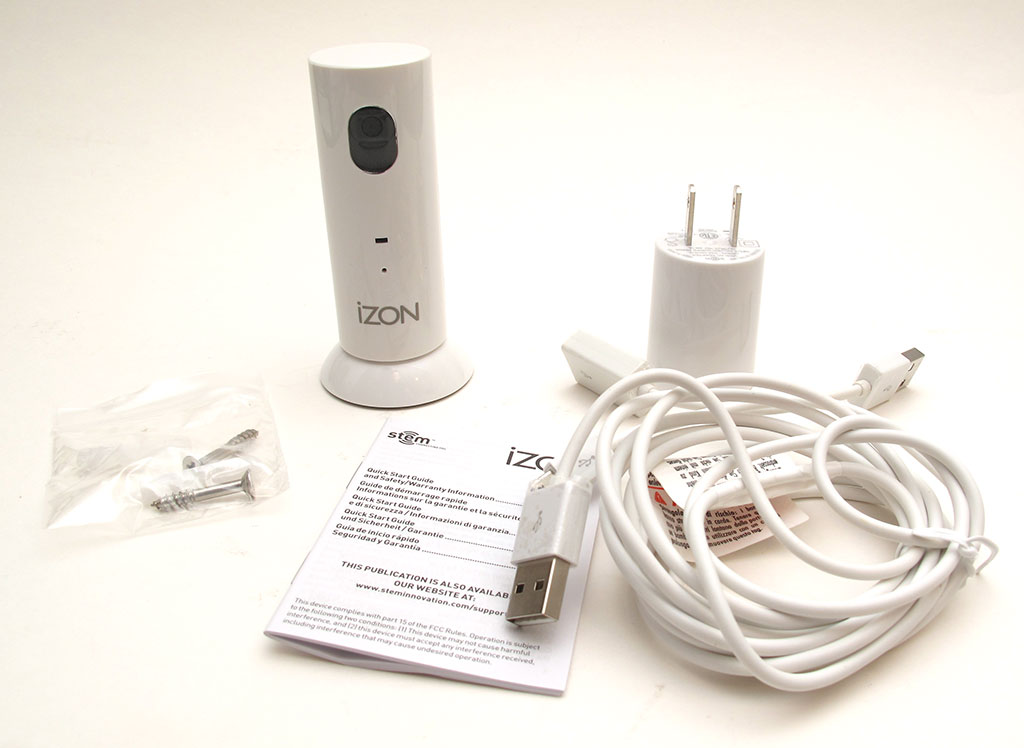 Info
WRM-BA3-00 review and price:
IZON Stem Black Wi-fi features:
Secure live video with even easier camera setup
Multiple uses: Nanny Cam, Pet Camera, Security Camera, Baby Monitor and More
Control via app for iPod, iPhone, iPad and Android Devices (iOS 5.0+ and Android 4.2+)
WiFi-enabled home security
Noise and motion alerts for home security when you can't be there
Other Info for this deal:
Warranty: standard manufacturer's warranty
S&H: Free shipping if ordered online
IZON Stem's dimensions and weight: check our reviews
Coupon: n/a
General IZON WRM-BA3-00 description
Be there, from anywhere The izon View video monitoring camera lets you to stay connected with what you love most. In just some minutes, you will have the camera set up and streaming live video straight to you over your secure Wi-Fi internet connection. Lots of people are using the izon see as a nanny cam, a pet camera or as a self-monitoring security camera. You'll use the free izon app to see and listen to real-time streaming of your home or office, at any time, via smartphone or tablet. The izon includes night vision. It works seamlessly to fit your needs as a baby monitor, pet camera, office or home camera. The izon app allows you to customize your motion and sound alert sensitivity. When the camera detects motion or sound it automatically begins secure online Cloud Video Recording (CVR), and alerts you with push notifications. You may be able to open the app to review recorded clips. The izon doesn't slow your bandwidth, and the app allows you to store up to 25 recordings a day with the 1st 100 recordings saved free of charge. The izon works with both Android and iOS devices, and the app is available in the Google Play Store and the Apple App Store. Taking control of your security never been easier, in under five minutes you'll complete set up and have live video streaming of everything you love most. What is in the box? & x2022; One black izon View video monitor & x2022; One camera base & x2022; Mounting hardware & x2022; 9′ power cable & x2022; AC power supply (100/240v) & x2022; Power adapter & x2022; fast start guide you will find greater peace of mind when you are monitoring what you love most with the izon View. Works with Android and IOS devices.
Recent reviews:
This is a great device that I'm really happy with, and the easy of setup was extraordinary. The setup is a little convoluted but given the nature of setting up secure networks and conditions obliged it's understandable and needed. I had used EvoCam on my mac previous which has alike function but requires the computer to be left on (which means it's hard to hide the camera also) – I have also set up Axis cameras in a alike situation and found that a nightmare to setup and keep operational firstly you're obliged to download the IZON app, then use that to configure the device and add it to your network etc. In essence the app functions as the user interface for the camera which has its pros and cons (namely using the iPhone keyboard to enter data etc for me which i generally dislike) but it's apt in function and once setup really is not an issue – just be patient throughout setup and follow the information exactly – after this if setup properly the app becomes the user interface to view the camera. I do really like how the maker has tried to make something typically complex into something more simple so this should be really applauded. It lets you to record a restricted amount of footage to the stem cloud service which is free but i could have liked or favored a local choice but was not able to do this as far as i can tell. The interface is simply to use and simply consists of tabs to activate the functions. Generally if it trips it'll send you an alert and this is the best function of this kind of device. Sure its fun for a bout five seconds to be able to view your house by afar but the reality is you want to be informed of an 'event' It may also do this via sound also.
Item was shipped from Stem Innovaiton.. Did not connect properly. When I called Stem novelty (note spelling difference), I was informed the shipped from address and order number indicated I had a knock off. Make sure you're to get the real thing. I am sure the real deal is 5 star, this isn't.
I could not be more happy with my choice. Easy set up, discreet, quality visual, and dependable alerts.
Compare IZON Stem Black with similar products:
Dropcam Case Outdoor Ball Joint in White with metal plates for wall mounting / tilting 90° degree angle extension
Angle view extension with easy ball joint application
Attention: Mount Only, no Dropcase included
Looks best with white Nest Cam – Dropcam case by Dropcases.
Compatible with all Dropcases (Outdoor Cases for Dropcam)
Better than previous version, very stable metal
Kt&C Co.,Ltd – Kt&C Universal Port Dvr: 16 Channel Hd-Sdi/Analog H.264 – Digital Video Recorder – H.264 Formats – 4 Tb Hard Drive "Produc
Video Surveillance Systems
Security Devices
Lawmate WCH-250X Wireless Camera Hunter
Full Range Frequency Scanning from 900mhz-6ghz
LawMate Brand Means Law enforcement Grade
2.5″ High Resolution Monitor
Rechargeable Battery w/ AC power supply – Battery life 3 hours
Full Range Video Protocol auto-switching for PAL / NTSC, CCIR / EIA
Q-See QTN8041B 4MP 1080P High Definition IP Camera with 100′ Night Vision (White)
Weatherproof for indoor and outdoor use
Cameras come with 4MP HD Quality resolution
3.6 mm lens for 65 Degree -70 Degree field of view
ONVIF Compatible Digital IP Camera
30 IR LEDs for up to 100ft of Night Vision
Bosch VG5-161-CT0 AutoDome Surveillance Camera – Color – 5x Optical – CCD – Cable
Cameras & Optics
Enter your model number above to make sure this fits.
Surveillance/Network Cameras
Revo America R165D4IT6I-4T 16-Channel 4TB 960H DVR Surveillance System With 10 1200TVL 100 ft. Night Vision Cameras
960H Recording
6x 1200 TV Lines indoor& 47;outdoor mini turret cameras
4x 1200 TV Lines Indoor dome cameras
Quick Connect Cameras have a built in microphone for audio monitoring capability
Connection type – 12 RJ12 and 4 BNC ports
IC Realtech AHB10 ALLie Home 360 Degree Degree Camera
VIDEO: Record, playback and share seamless 360×360 degree videos with 2048×2048 resolution on each sensor at up to 20 frames per second.
SPEAKER: Communicate through a two way speaker and microphone.
SURVEILLANCE: Activate Surveillance mode and turn your ALLie into a full 360 degree Security
PROCESSING: No post processing with Qualcomm Snapdragon 800 quad-core processor, ALLie packs processing power to deliver seamless video instantly.
SHARING: Easily capture and share your moments with friends and family on Facebook and YouTube, in 360 degrees
Wi-fi Black Video technical ratings and MSRP
Noise and motion alerts for home security when you can't be there
Multiple uses: Nanny Cam, Pet Camera, Security Camera, Baby Monitor and More
Secure live video with even easier camera setup
WiFi-enabled home security
Control via app for iPod, iPhone, iPad and Android Devices (iOS 5.0+ and Android 4.2+)
What people considered before buying WRMBA300:
IZON 2.0 Stem Wi-Fi Video Monitor Surveillance for iOS 5.0+ and Android 4.2+
IZON Stem White Wi-fi Video Monitor Surveillance for iOS 5.0+ and Android 4.2+
IZON Stem White Double Wi-fi Video Monitor Surveillance for iOS 5.0+ and Android 4.2+
IZON Stem Double Wi-fi Video Monitor Surveillance for iOS 5.0+ and Android 4.2+
PPC Ex6xlPlus Rg6 Snap & Seal Outdoor Coax Compression Connectors Qty:50 Comcast, DTV and Dish Approved
Additional indoor Module for Netatmo Weather Station – Retail Packaging – Aluminium
Subscribe
Subscribe to WRMBA300 best price tracker for your city/stores