ZenFone 2 Laser Unlocked Smartphone, 3GB RAM, 32GB Storage
How ASUS ZE551KL-15-3G32GN-SR price changed over last several months:
ZenFone ZE551KL-15-3G32GN-SR comparison with other similar products:
Gallery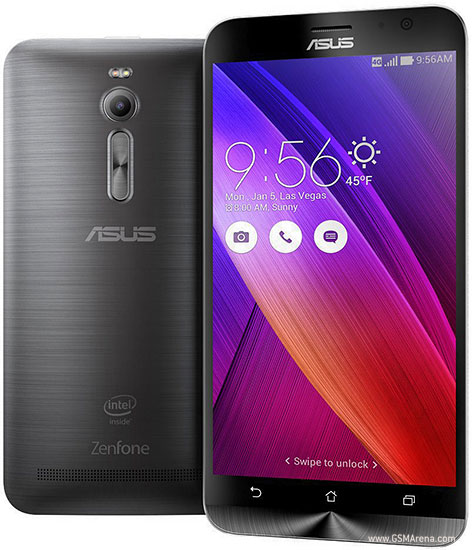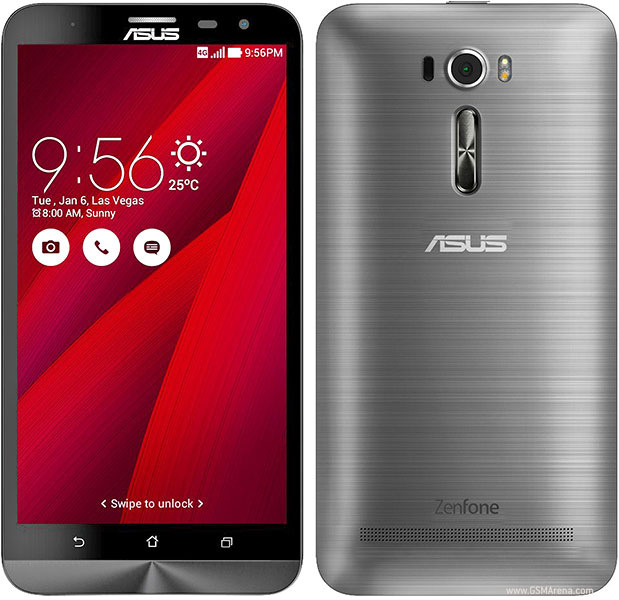 Info
ZE551KL-15-3G32GN-SR review and price:
ASUS ZenFone 2 Laser features:
High-capacity 3000 mAh battery – Replaceable for increased longevity
Equipped with Laser Autofocus Technology for camera focusing 2-3 faster than traditional smartphone cameras
5.5″ IPS Full HD Display protected by Gorilla Glass 4; 13MP Rear and 5MP Front Camera
Unlocked GSM Dual Active SIM Smartphone compatible on GSM Networking including AT&T and T-Mobile
Powerful performance with 3GB RAM and Qualcomm Octa-Core Processor
Other Info for this deal:
Warranty: standard manufacturer's warranty
S&H: Free shipping if ordered online
ASUS ZenFone's dimensions and weight: check our reviews
Coupon: n/a
General ASUS ZE551KL-15-3G32GN-SR description
ASUS, ZenFone2 Laser, Silver, 5. 5″ (1080 x 1920) FHD IPS& xA0; (403 ppi), Gorilla Class 4, Qualcomm Snapdragon 615 MSM8939, PowerVR G6430, with OpenGL 3. 0 support, 3GB LPDDR3, 2 SIM card slots, Micro SIM, GSM/EDGE; HSPA+/DC-HSPA+, FDD-LTE; DSDS, 32GB Storage, Micro SD Card slot support up to 64GB, Integrated 802. 11bgn, GPS, AGPS, Bluetooth V4. 0 ( EDR + A2DP )/ Bluetooth Apt-X codec Android Lollipop 5. 0$.
Recent reviews:
Asus became something of a household name over the past couple of decade via their entries in the laptop, tablet and other electronic peripheral markets. What not everyone knows is that they have also made a considerable effort in the past few years to become a player in the cell phone market. And, as you may guess, since not everyone knows that, they have not been exactly super burning up the sales charts in the US in that area. But that does not mean they are not worth your consideration, if you're one of those people wanting to look beyond Apple and Samsung. Earlier this year, Asus presented a new line of phones the Asus ZenFone 2. They were nice, carrier unlocked, comparatively inexpensive phones that offered pretty good functionalty. They did not have the best cameras on the market, or the best performance. But the phone reception on the phones is good, and as long as you are not pushing them too hard, they are nice reduced cost alternatives. One of the features that differentiated those earlier generation ZenFone 2 models is that they shown (comparatively costly) Intel processors, giving them some a performance increase, however making those phones a bit like single wolves in an ecosystem where Qualcomm Snapdragon processors rule, which, among other things, adds to the support costs for phone manufacturers who want to ensure every new Android update lands on their phone line. So it is most likely not a surprise that for their new iteration of the ZenFone, the Asus ZenFone 2 Laser, Asus has moved over to the Qualcomm platform. Beyond the change in processor, the major new feature of this iteration of ZenFones is that Asus has added laser assisted concentrating technology to the (13 megapixel) rear-facing camera.
I am impressed with this phone. I am a fan of Android phones and in the past I have used premium smartphones like HTC one m8, Samsung Galaxy 2 and Samsung Galaxy Note 2 and I am impressed with this phone and for $200 it is a steal Battery life is really good. Camera not the best I have used but takes pretty nice pics. The Asus UI is user friendly. The screen resolution is amazing. In general the phone is remarkable Update on battery life. I posted a screen shot of my battery handling. It is been 14 plus hours since 5 in the morning and it is now nearly 8 o'clock at night and I am still at 24 % battery. Oh that is average to some heavy handling. The battery on this phone is amazing I am impressed .
In general this is a hard phone and a great value for the money. My major driver for purchasing this was the dual SIM capability, I usually carry two phones, one for work and my personal phone. My work and personal phones were an LG G4 and Galaxy Note Edge, so I'm coming from the perspective of a high-end phone user. Let me start by saying that the dual SIM capability is great, having access to both phone numbers also as both data plans on a single device is a game changer. But, there are some small features that Asus may have included with minimal effect on price. This review will concentrate on those & 34;missing& 34; features also as the phones strong points. After 48 hours of heavy use, the following features are the ones I miss the most from my two last phones. – NFC, so I can use Android Pay again This a big feature I believe and nearly a deal breaker. – Lighted capacitive buttons, this is annoying. – fast charging, not a must have because the battery life is good.. But it could be nice- IR blaster, again, not a must have, however a nice and inexpensive feature to add. – comes with android 5. 0, lollipop. Phone this new should ship with marshmallow. I understand that this is a & 34;budget& 34; phone, however I could gladly pay an extra $25-$50 for the above features to be included. Having said that let us look at the phones strong points:- Dual SIM, I do not know why none of the big manufacturers do this- Great value and performance for the money. – Good build quality, it feels hard in the hand. I know it is all plastic, however it does not feel that way. – Nice screen- Great camera, fast autofocus. (not as good as the LG G4 camera..
Compare ASUS ZenFone 2 with similar products:
Meitu M4 Selfie Heaven 4.7 Inch 32GB 4G LTE Android 4.4 Smartphone 1.7GHz 13MP Front-facing Camera with Front LED Fill-light
Cameras: 13 megapixel Sony cameras on the front and rear, coupled with a Fujitsu Milbeaut image processor and 2GB RAM.
Night Selfile-Camera: Less noise in dark photos; Front LED fill-light; Adoption of the Fujitsu Milbeaut chip
Capacity: 2160mAH Battey; 32GB ROM; 2GB RAM
Design: " Double V" design, keeping all the innovations of the M4 "under the hood" with more comfortable feel
MeiOS 2: MeiOS 2 is Meitu's custom Android skin sitting on top of Android 4.4 Kitkat.
Samsung Galaxy Grand Prime G531H Dual Sim – Latin Stock – Factory Unlocked Phone – Retail Packaging – Gold
Wide 5″ full HD display
Slim, sleek design
5MP front-facing camera, 8MP rear-facing camera
Lenovo A588T Elders/Business Vertical Flip Smart Phone Android 4.4 GSM 4 inch TFT Screen ROM 4GB MTK6582M Quad Core 5MP Camera Dual SIM
SIM Card: Dual SIM / Single Band. 2G (GSM): 850/900/1800/1900MHz
Language: English, Simple Chinese
OS: Android 4.4 ; CPU: MTK6582M Quad Core 1.2GHz
4.0 inch Capacitive Screen 800 x 480 pixels. Back 5.0MP
RAM 512MB + ROM 4GB. External memory
Samsung Galaxy S4 SGH-i337 4G Cell Phone, 16GB, Red, AT&T
For AT&T Wireless Only, AT&T SIM Card Required.
GSM 850 / 900 / 1800 / 1900, 3G Network: HSDPA 850 / 900 / 1900 / 2100, 4G Network: LTE 700 MHz Class 17 / 1700 / 2100
5″ Super AMOLED Capacitive Multi-Touchscreen w/ Protective Corning Gorilla Glass 3
Android v4.2.2 (Jelly Bean), upgradable to v4.4.2 (KitKat), Quad-Core 1.9 GHz Krait 300 Processor, Chipset: Qualcomm APQ864T Snapdragon 6, Adreno 320 Graphics
13 Megapixel Camera (4128 x 3096 pixels) w/ Autofocus, LED Flash + Front-Facing 2 Megapixel Camera, 1080p 30fps, dual video call + Video 1080p 30fps, dual-video rec. Internal Memory: 16GB storage, 2GB RAM + microSD Slot Expandable up to 64GB
Blackview BV5000 5.0 Inch Android 5.1 Waterproof / Shockproof / Dustproof Unlocked Smartphone, MTK6735P Quad Core 1.0GHz, 2GB RAM + 16GB ROM GSM &
Android 5.1, MTK6735P Quad Core 1.0GHz
2GB RAM 16GB ROM, Micro SD up to 32GB (not included)
Support Network WCDMA, GSM, FDD-LTE;Support Wifi, bluetooth etc.
2.0MP front camera, 8.0MP back camera
5.0 inch HD IPS screen 1280720 pixels
RIM BlackBerry 9105 Pearl 3G Unlocked GSM Smartphone – 3MP Camera, WiFi, GPS — International Version(Black)
Unlocked cell phones are compatible with GSM carriers such as AT&T and T-Mobile, but are not compatible with CDMA carriers such as Verizon and Sprint.
This unlocked cell phone is compatible with GSM carriers like AT&T and T-Mobile. Not all carrier features may be supported. It will not work with CDMA carriers like Verizon Wireless, Alltel and Sprint
Up to 5.5 hours of talk time, up to 432 hours (18 days) of standby time; released in October, 2010
This cell phone may not include a US warranty as some manufacturers do not honor warranties for international version phones. Please contact the seller for specific warranty information.
Wi-Fi networking; Bluetooth stereo music; microSD expansion to 32 GB; 3.2-megapixel camera/camcorder
Slim, lightweight BlackBerry with SureType QWERTY keyboard for accessing all your e-mail and messaging plus fast Web browsing and data downloads
Nokia E6 Unlocked GSM Phone with Touchscreen, QWERTY Keyboard, Easy E-mail Setup, GPS Navigation, and 8 MP Camera – Silver
8-megapixel camera; 720p HD camcorder; Bluetooth stereo music; 8 GB memory; microSD expansion; GPS with free Ovi Maps Navigation voice-guided directions
Unlocked quad-band GSM cell phone compatible with 850/900/1800/1900 frequencies and US/International 3G compatibility via 850/900/1700/1900/2100 UMTS/HSDPA plus GPRS/EDGE capabilities
3G-enabled messaging phone in black with 2.46-inch touchscreen and physical QWERTY keyboard; access to personal and corporate e-mail
Up to 7.5 hours of talk time, up to 744 hours (31 days) of standby time; released in June, 2011
What's in the Box: handset, rechargeable battery, charger, wired headset, connectivity cable, quick start guide
Laser 2 Unlocked technical ratings and MSRP
Powerful performance with 3GB RAM and Qualcomm Octa-Core Processor
5.5″ IPS Full HD Display protected by Gorilla Glass 4; 13MP Rear and 5MP Front Camera
Unlocked GSM Dual Active SIM Smartphone compatible on GSM Networking including AT&T and T-Mobile
High-capacity 3000 mAh battery – Replaceable for increased longevity
Equipped with Laser Autofocus Technology for camera focusing 2-3 faster than traditional smartphone cameras
What people considered before buying ZE551KL153G32GNSR:
ZenFone 2 Screen Protector, PLESON ASUS ZenFone 2 Tempered Glass Screen Protector, 0.3mm/ 2.5D/ 9H/ Bubble-Free/ Shatterproof/Anti-fingerprint Glass Screen Protector for ZenFone 2 Lifetime Warranty
MoKo ASUS ZenFone 2 Case – Scratch Resistant Hybrid Armor Series Dual Layer Protection – Scratch Technology Corners for ASUS ZenFone 2 ZE550ML / ZE551ML / Deluxe / Deluxe Special Edition, BLACK
Mr Shield For Asus ZenFone 2 Laser 5.5 Inch (ZE550KL) Not Fit For ZE601KL 6.0 Inch Premium Clear Screen Protector 3-PACK with Lifetime Replacement Warranty
Asus ZenFone 2 Laser Screen Protector (ZE551KL / ZE550KL) .3MM / 2.5D HD Tempered Glass, SPARIN Easy + Re-Install No Bubble Touch Sensitive Protector for Asus Zenone 2 Laser 5.5″ Life Warranty
ASUS Zenfone 2 laser ZE550KL Case , IVSO ASUS Zenfone 2 laser ZE550KL High Quality Double Layer Protective Stand Case for ASUS Zenfone 2 laser ZE550KL 5.5 inch Smartphone. (Black)
Asus Zenfone 2 Laser ZE551KL,ZE550KL 5.5″ Case, Yaker Nature TPU Soft Cover for Asus Zenfone 2 Laser ZE551KL,ZE550KL 5.5Inch (Clear TPU)
Subscribe
Subscribe to ZE551KL153G32GNSR best price tracker for your city/stores